Living on Kauai provides endless opportunities for adventure. One of our favorite places to explore are the cliffs known as Na Pali.  These verdant and wild slopes are alarmingly jagged and staggeringly high – only accessible by ocean or one of the many hiking trails.
We have lived on Kauai for over a decade and have explored Na Pali from trails, kayaks, SUP boards and boats. The effect this heavenly landscape has on our hearts and souls has never diminished regardless of our numerous encounters.
Recently we took a trip aboard the Southern Star, a beautiful 65-foot sailing catamaran with Capt. Andy's Sailing Adventures that launches out of Port Allen Harbor in Eleele on the west side of Kauai – a short 20-minute drive from Hokuala. Depending on the time of year, the weather and sea life change quite drastically so there is never a repeat experience. This particular tour was a dinner and sunset cruise that commanded our attention from beginning to end.
Given the possibility of inclement weather, we packed a light jacket. It's also a good idea to avoid wearing too much cotton, as you're likely to get a bit wet when splashed by sea spray.
If you're not sure about your sea legs, save yourself from turning even a little green by taking something for motion sickness at least 30 minutes prior to departure. FYI, those wristbands don't always work and it's just not worth the possibility of being miserable!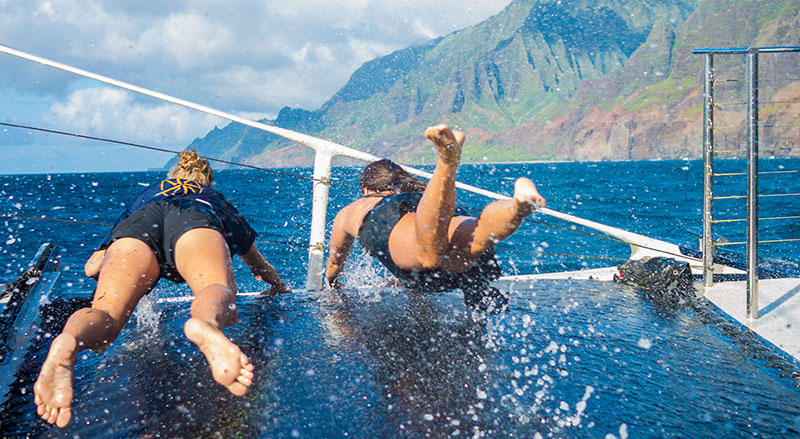 The trampoline on the catamaran was a great place to enjoy the swells as we headed out around the Island's sometimes "bumpy" Northwest side. We particularly enjoyed sitting near the captain's helm while the captain entertained us with his narration of Kauai's folklore, geography, and history. The Island of Kauai is rich in legend and each isolated beach and cascading waterfall along Na Pali seems to have a story of its own.
One of our favorites was the legend of Honopu Valley. Backed by recent archeological evidence, the legend states that the bodies of the deceased Alii, or tribal chiefs, would be carried by a single warrior who would hide their remains in the cliff face and then leap to his death in an honor sacrifice so the location of the bones would remain secret and prevent an enemy or rival chief from gaining supernatural power, or mana, to be used against the chief's tribe.
As we approached the highest peaks of Na Pali near our turn-around point at Kalalau Valley, the boat came alive with passengers excitedly taking in the scenery and snapping photos. Dinner was outstanding – a New York Steak with Hawaiian salt and secret spices, grilled Jumbo Shrimp skewer with butter, Herb roasted Baby red potatoes, grilled asparagus and gingered carrots.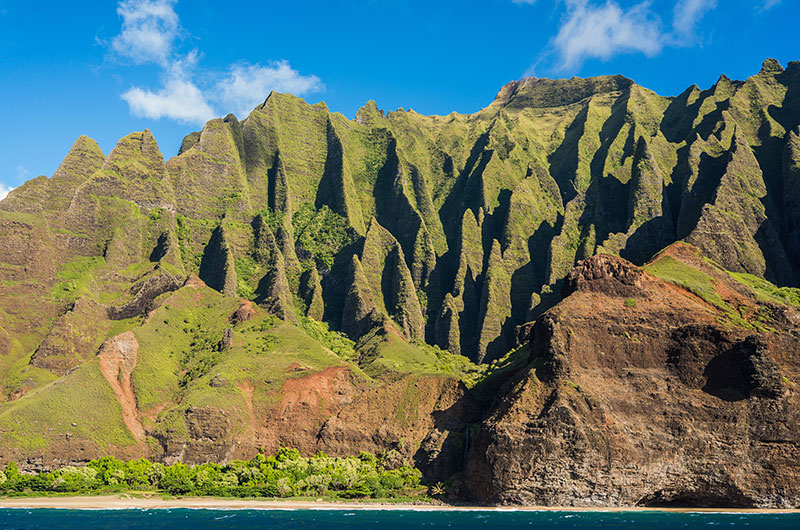 The precipitous vibrant green cliffs, the endless white beaches, the dark mysterious caves and spectacular cascading waterfalls were all a sight to behold. It is no wonder that Pele, the Hawaiian goddess of fire and creation, left her mark, an enormous X in the cliffs above Nu'alolokai, to exclaim her work was done.  The captain pulled the vessel within yards along side the shockingly steep cathedral cliffs and we shared a toast to how blessed we are to live in a place that offers such immense beauty enveloped by extraordinary legends and history.
On our journey back to the harbor, as the captain slowed the boat to watch the sun dip beneath the horizon, we were amazed to witness Kauai's fabled and elusive "green flash!"
Exploring Kauai's Na Pali coast, whether by catamaran, kayak or trail, will awaken your senses and provide an extraordinary opportunity to experience the legends and history that have shaped its people and its land.  Whether you are just visiting or living full-time on Kauai, every moment will evoke tranquility and rejuvenate your soul.